DESCRIPTION of UHF Wideband TV Aerial
10 Element UHF TV Aerial
Saorview Digital TV: Yes
Tip Colour: White (Replaces Old Type Black Tipped Version)
Gain: 7 - 10 dB
Colour: Silver
Contains Printed Circuit Board (PCB) and Balun
Dimensions(HxWxL): 30 x 30 x 90 cm
Channel: 21-60
Frequency: 470-790Mhz
Code: CR10+T
Note: This Aerial Excludes Channels 60-68 (Now used for LTE 4G Broadband)
Manufacturer: Blakes
Consists of
10 Element Contract TV Aerial
Deflector Plate
Mounting bracket
Grid Deflector acts to block unwanted signals from secondary TV transmitters
USES of UHF Wideband TV Aerial
General purpose UHF TV aerial which covers entire TV UHF spectrum
Works well when mounted outdoors in good reception area
Ideal when UHF TV broadcasts cover more than 1 UHF group
Can be used for on any TV transmitter
ADVANTAGES of UHF Wideband TV Aerial
This TV aerial will work with any UHF transmission
It avoids LTE broadband interference by not covering channel 60-68
If you are unsure of which transmitter or Group you will be using this TV aerial will work equally well with any TV aerial group or transmitter
Very low cost compared to a grid TV aerial
Takes up 30cm of pole space compared to 80cm for a TV Grid aerial - an issue when space is tight on your TV aerial pole
DISADVANTAGES of UHF Wideband TV Aerial
Does not give the same gain as a TV Grid Aerial
Does not give the same gain as a correctly selected Grouped TV aerial
May add to costs by requiring the addition of power units, amplifiers and distribution systems
Introduction to Aerial Assembly
The various different types of aerials stocked by Tvtrade.ie can be broken into 3 basic categories:
UHF High Gain Grid Aerials
UHF Contract Aerials

Wideband
Grp A
Grp B
Grp CD
Grp K

UHF Medium Gain Aerials
How to assemble a UHF Aerial is outlined below.
Tvtrade.ie stock 5 different types of this aerial - Group A, B, CD, K and wideband. They are all assembled in exactly the same manner.
Equipment needed
10 Element contract UHF Aerial - Consists of: Aerial, Backplate & Bracket
Length of RG6 Satellite Cable
Tools needed
Snips
Small flat head screwdriver
Steps to Install
Using a snips pare back 2cm from the end of the RG6 cable and wrap the earth cable around the base of the cable leaving at least 1cm of the central core cable exposed.
Pull the plastic cover off the top of the aerial assembly
Slot the end of the RG6 cable through the base of the aerial assembly and into the fixing nuts for the earth and core wires
Use the screwdriver to tighten the screws so that both the earth and core wires are securely screwed in place and are not touching each other
Click the plastic cover back on
Slot the faceplate into the groove at the back of the aerial so that the curved surface of the deflector faceplate is facing towards the elements of the aerial
Slot the pole bracket onto the back section of the aerial - it can be used to mount aerial vertically or horizonitally
ASSEMBLY IS NOW COMPLETE !
See map below for main Saorview transmitters in Ireland. Alternatively, click on link to view all main Saorview transmitters and regional sub stations [Click Here to View Map]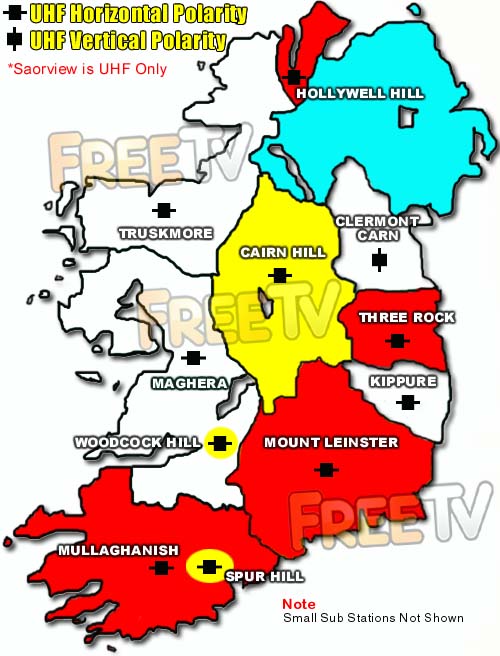 The above map shows the main Saorview coverage & transmitters, the colour code of the best UHF aerial to use and their catchment area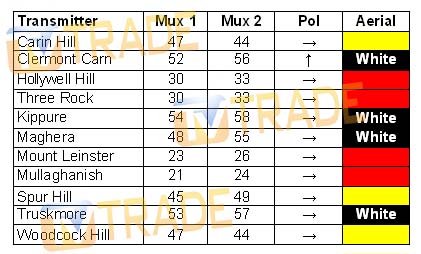 The table above shows the channel range & polarity of each of the transmitters in Ireland. The final column shows the UHF group colour code for the most appropriate aerial for the transmitter. Of course it is possible to use a wide band UHF aerial (either the standard white tipped, higher gain, high gain grid or 32 element) which will work on all transmitters

The table above shows the range of UHF TV Aerials available, their frequency range and the colour code associated with each aerial.
What TV Channels Can I Receive?
Currently, it is possible to receive 10 Irish TV channels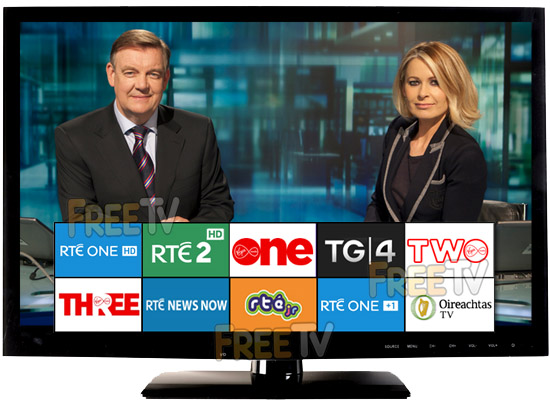 What Radio Stations Can I Receive?
Currently, it is also possible to receive some Irish digital radio stations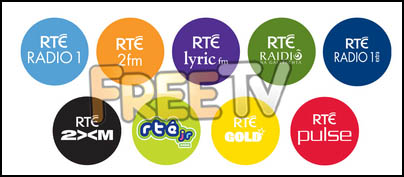 Additional Info
Receivers with a DVB-T tuner, can receive the above Saorview channels
Receivers that have a DVB-T2 tuner, can not only pick up the Saorview channels but also if along the border with Northern Ireland, can also pick up UK Freeview HD channels*
*Location dependent
We aim to provide a fast, reliable & low cost delivery service
Standard Courier With Fastway (2-4 Working Days)

Cost is €3.95 on Orders Below €100
Free Delivery on Orders Above €100

Express Courier (Next Working Day)

With Fastway: Cost is €6.50 (or €2.50 extra if you qualify for free standard shipping)
With DPD: Cost is €8.50 (or €4.50 extra if you qualify for free standard shipping)
This service guarantees that any order placed before 4.30pm (Mon - Thurs) will ship from our depot that same day on the next day delivery service*
Orders placed after 4.30pm on Fridays & during weekends / bank holidays will be shipped the next working day*

An Post

Cost is €1.95 (P & P)
Available only on selected products with the An Post logo

Small Parcels

Cost is €2.95
Available only on products with the small parcels logo**

Great Britain

Western Europe


Cost is €10
Belgium, France, Germany, Holland, Italy, Lithuania, Luxembourg, Spain, Portugal etc

Rest of Europe


Cost is €20
Croatia, Czech Republic, Estonia, Iceland, Malta, Slovenia, Switzerland, Norway, Sweden, Finland etc

Rest of World


Cost is €30
Please contact us before purchasing to confirm
Terms
All shipping fee prices listed are ex-VAT @23%
Irish shipping rates apply to the whole Island (North & South)
Shipping fee is fixed for an order, regardless of the number of items bought
All courier orders require signed proof of delivery and the customer must be contactable by phone
We do not offer a weekend delivery service (Mon-Fri only excluding bank holidays)
*Our courier achieves a 98% success rate on next day deliveries
** Applies to island of Ireland only (North & South)
Heavy or Large Parcels (Applies only to Non Irish or UK customers): It may be necessary to charge higher shipping fees / offer option to cancel order