Overview of High Gain UHF TV Aerial Kit
This 32 Element UHF TV aerial Kit kit contains everything you need to mount a UHF aerial outside on a chimney or wall to receive the Irish Saorview channels from a terrestrial TV transmitter.
Kit Contains - Depending on Option Selected
32 Element High Gain UHF Aerial
Aerial Installation kit of RG6 Cable & TV Connectors
Wall Mounting option (Default)
TV Aerial Wall Bracket (Qty: 1)
Coach Bolt & Plugs (Qty: 4)
Chimney Mounting Option
9 Inch Chimney Bracket & Lashing kit
Galvanised Mast (180cm x 32mm)
It is important to remember that where you live in Ireland will determine
The type of TV Aerial you will need
The direction that you will point it
The frequency at which the channels are being broadcast
USES of a High Gain UHF TV Aerial Kit
General purpose UHF TV aerial which will work with any UHF transmission
Ideal for use in where background interference is a major issue
Ideal for when the aerial must be mounted in the attic
ADVANTAGES of High Gain UHF TV Aerial Kit
This is a general purpose high gain aerial suited to all UHF transmissions
Little technical knowledge needed to get good results for the above reason
Can save money by reducing the need for amplifiers and distribution systems
May work in attic where WB contract aerial would not give good results
DISADVANTAGES of UHF TV Aerial Kit
More expensive than a 10 element contract aerial kit
See map below for main Saorview transmitters in Ireland. Alternatively, click on link to view all main Saorview transmitters and regional sub stations [Click Here to View Map]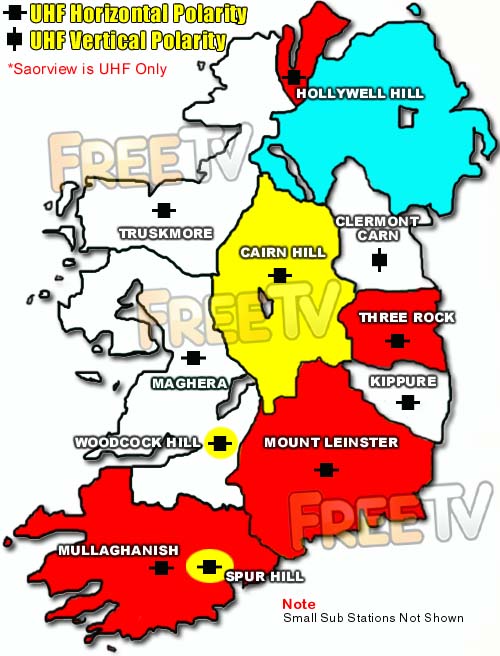 The above map shows the main Saorview coverage & transmitters, the colour code of the best UHF aerial to use and their catchment area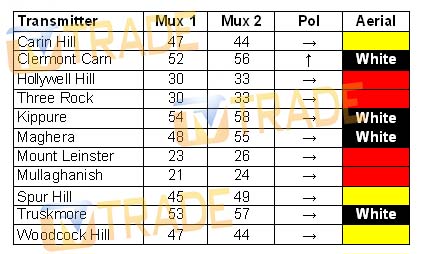 The table above shows the channel range & polarity of each of the transmitters in Ireland. The final column shows the UHF group colour code for the most appropriate aerial for the transmitter. Of course it is possible to use a wide band UHF aerial (either the standard white tipped, higher gain, high gain grid or 32 element) which will work on all transmitters

The table above shows the range of UHF TV Aerials available, their frequency range and the colour code associated with each aerial.
What TV Channels Can I Receive?
Currently, it is possible to receive 10 Irish TV channels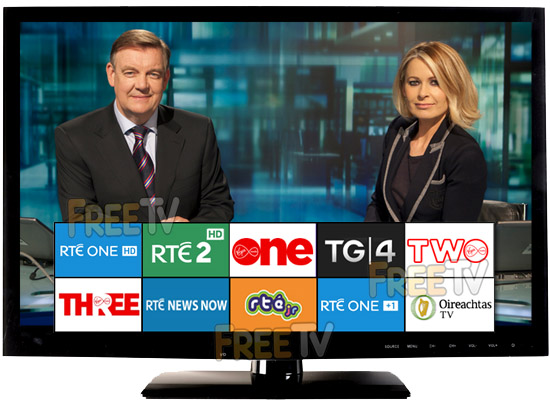 What Radio Stations Can I Receive?
Currently, it is also possible to receive some Irish digital radio stations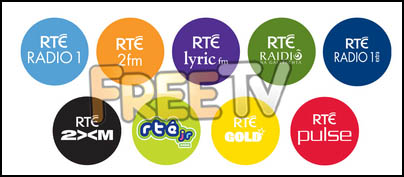 Additional Info
Receivers with a DVB-T tuner, can receive the above Saorview channels
Receivers that have a DVB-T2 tuner, can not only pick up the Saorview channels but also if along the border with Northern Ireland, can also pick up UK Freeview HD channels*
*Location dependent
A. How the UHF TV Aerial Kit works
The kit is essentially made up of 3 Parts
a UHF Wideband Aerial - which picks up the signal coming from a Terrestrial TV transmitter

A Chimney Bracket & Pole - which allows an TV aerial to be mounted on the chimney

An Installation Kit - which consists of 20m of satellite cable, TV connectors, cable clips etc to run the cable from the aerial to the TV or set top box
B. Is there help online to guide me ?
Yes.
Each of the sub-components that make up the TV Aerial Kit come with Video Tutorials and instructions on how to they should be installed.

The various sub-components of the kit are listed as Associated Products, in the column to the right of the Product.
C. But I Already have a ......
Often customers considering buying this system will already have some of the equipment in place so a few guidelines would be if you alrady have:
A Chimney bracket & pole

Make sure that the Pole and chimney bracket are not too corroded and are capable of supporting the weight of the TV Aerial.

If it passes this test you can drop the Chimney Bracket &/or pole from the list

A cable running to an old Aerial

normally this is a No-No, as old satellite cable often contains water and this will cause serious signal loss - so if it doubt leave it out
D. Can I mount the Aerial In the attic ?
Yes it is possible to mount the Aerial in the attic.
Advantages

Normally cheaper as you don"t need a pole or chimney bracket

Its a lot safer than going up on the roof

Disadvantage

You loose about 40% of the signal strength by mounting the aerial indoors.
Equipment implications of mounting TV aerial in attic
Won"t Need

Chimney Bracket and Lashing kit

Galvanised mast

May Need

Proception 2 Way TV Amplifier (to boost the signal)
Alternatives:
You could mount the TV Aerial outside on Gable end of your house using either:

Universal Wall Mount (18" Stand Off) or

Tv Aerial Wall Bracket
E. I want to run the TV Aerial to more than 1 room
In a good reception area simply Add in a passive 2, 3 or 4 way splitter along with a number of f connectors.

In a poor reception area or if there is more than 4 TVs use a TV distribution Amplifier - they come in 2,4, 6 & 8 way versions
F. Can I boost the signal ?
If you live a poor reception area you can boost the signal by either
Using a Power Unit & a UHF Masthead Amplifier

Using a 2,4,6 or 8 Distribution Amplifer
G. Will I need a different UHF Aerial for Digital than I do for Analogue
Possibly but maybe not. The general rule is that if your existing TV3 is good from your current TV aerial, then you probably won"t have to change or move it. If however, your TV3 reception is poor, then you may require a new/different aerial.
H. But I want More Channels !!
If you want to get more than the basic Irish Channels you can either add on:
Free-To-Air Satellite system - this system consists of either a Standard or a High Definition satellite receiver and a satellite dish which will give you about 80 free satellite channels including BBC 1, 2, 3,4, ITV 1,2,3,4, Channel 4, sky News, Film4 etc.
Sky - this system consists of a sky Receiver which come with a viewing card. Monthly subscription costs from 22-87 euro. It is possible to get sports and Movie channels on this service TVTrade.ie do not stock either of these services.
G. Can I get The Free Irish & UK Channels on a Single Box
Yes. You will need a Combo Satellite & DTT system as listed in the Saorview section under Irish & UK Combo Receivers.
We aim to provide a fast, reliable & low cost delivery service
Standard Courier With Fastway (2-4 Working Days)

Cost is €3.95 on Orders Below €100
Free Delivery on Orders Above €100

Express Courier (Next Working Day)

With Fastway: Cost is €6.50 (or €2.50 extra if you qualify for free standard shipping)
With DPD: Cost is €8.50 (or €4.50 extra if you qualify for free standard shipping)
This service guarantees that any order placed before 4.30pm (Mon - Thurs) will ship from our depot that same day on the next day delivery service*
Orders placed after 4.30pm on Fridays & during weekends / bank holidays will be shipped the next working day*

An Post

Cost is €1.95 (P & P)
Available only on selected products with the An Post logo

Small Parcels

Cost is €2.95
Available only on products with the small parcels logo**

Great Britain

Western Europe


Cost is €10
Belgium, France, Germany, Holland, Italy, Lithuania, Luxembourg, Spain, Portugal etc

Rest of Europe


Cost is €20
Croatia, Czech Republic, Estonia, Iceland, Malta, Slovenia, Switzerland, Norway, Sweden, Finland etc

Rest of World


Cost is €30
Please contact us before purchasing to confirm
Terms
All shipping fee prices listed are ex-VAT @23%
Irish shipping rates apply to the whole Island (North & South)
Shipping fee is fixed for an order, regardless of the number of items bought
All courier orders require signed proof of delivery and the customer must be contactable by phone
We do not offer a weekend delivery service (Mon-Fri only excluding bank holidays)
*Our courier achieves a 98% success rate on next day deliveries
** Applies to island of Ireland only (North & South)
Heavy or Large Parcels (Applies only to Non Irish or UK customers): It may be necessary to charge higher shipping fees / offer option to cancel order