Next day delivery available on orders placed before 4.30pm Monday-Thursday

Description of the Saorview & UK Freeview HD Combo Kit
Kit Contains:
Aerial 1: Group T White Band UHF Aerial will work on any Saorview transmitter)
Aerial 2: Group T White Band UHF Aerial (Will work on any Freeview transmitter)
TV Aerial Installation Kit
Choice of Diplexers

UHF / UHF Diplexer (Triax TFC 5052 [50/52])
Fringe 3740 Diplexer (Power Pass on Input #1)

A TV Aerial Power Unit
A High Gain UHF Masthead Amplifer
A Galvanised Mast
Option of Mounting Bracket

'Chimney Mounted' (Default option)

Chimney Bracket & Lashing Kit

Wall Mounted Option

18" wall bracket, Anchor Bolts (qty: 5), U Bolts (qty: 2)
The Uses of the Saorview & UK Freeview HD Kit
This is a single kit which contains all the Aerials, Power units, cable and connectors to allow both Saorview & Freeview to be picked and combined.
Notes

This will mainly work along the East coast and Border areas
Check this kit will work in your area before purchasing
What Channels Can I Get?
See the List of Channels tab


RTE 1, 2 HD, TV3, BBC 1, 2, 3, 4, ITV, Channel 4 .....
Advantages of the Saorview & Freeview HD Channels Combo Kit
There is no need for a satellite dish - get everything from a TV Aerial(s)
Free UK & Irish Digital TV in one receiver
Signal can be split and distributed to multiple rooms
Certain channels such as DAVE etc is on Freeview but not Freesat
Disadvantages of the Saorview & Freeview HD Channels Kit
It will only work in limited areas of the country
Certain areas also face interference caused by both the Saroview and Freeview transmitter broadcasting on the same frequency
You will need two TV Aerials
Careful inspection of the map (and ideally some local advice) is necessary as unlike with a satellite solution, it is not a one size fits all
You must be also careful to order exactly what you need
When placing the order you must....
Choose which mounting bracket suits you best
Make sure that the 50/52 diplexer suits your local Freeview and Saorview transmitters
Kit does not contain a receiver anymore
Installation Steps
Install the mounting Bracket & Pole in a location which has line of sight for both the Freeview HD & Saorview Transmitters

Set up the Freeview HD System

Install the UHF aerial for the UK Freeview HD transmitter along with the UHF Masthead amplifier & Power unit

Connect the aerial to the Receiver & tune in the UK Freeview HD Channels

Verify you are picking up all the Freeview HD channels

Set up the Saorview System

Install the UHF Aerial for the Irish Saorview channels

Most likely you will not need to use a power unit & amplifier - but use if necessary

Connect the aerial to the Receiver unit & tune in the Irish Saorview Channels (temporarily disconnect the Freeview HD Aerial)

Verify you are picking up all the Saorview channels

Combine 2 systems

Use e.g. a 35/37 UHF Diplexer to combine the 2 aerials together. Do this AFTER the power units etc.

Feed the combined Aerial output into your Receiver

Verify you are picking up all the Saorview & Freeview HD channels
Note: Transmitter Frequencies May Have Changed
Saorview and Freeview Transmitters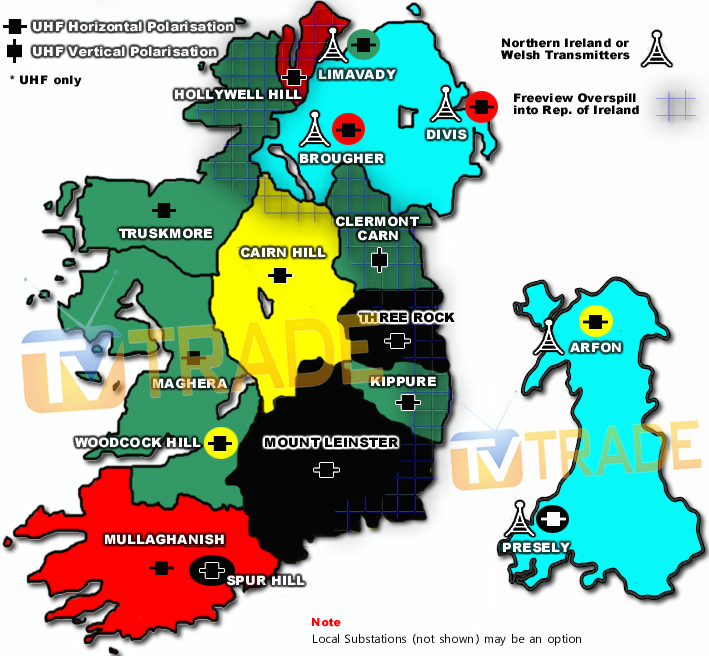 The above map shows all the main Irish Saorview transmitters and also the UK Freeview transmitters which could possibly be picked in regions of Ireland.
Saorview & Freeview Frequencies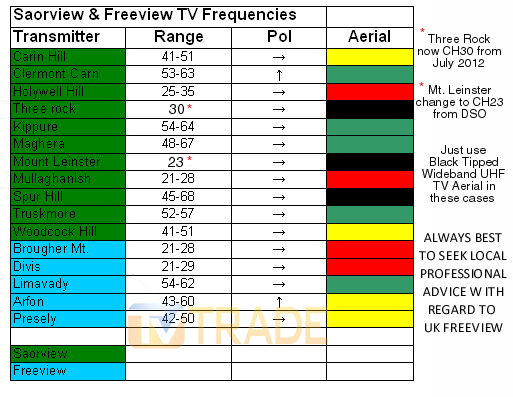 The table above gives the primary transmission channels and the channels range used by each of the transmitter featured in the map above.
View Coastal Transmitter Map [Here]

Full List of Freeview Channels
Ch #
Ch Name
1
BBC One
2
BBC Two
3
ITV1
4
Channel 4
5
FIVE
6
ITV2
7
BBC THREE
8
Channel 4 Wales / TeleG (Scotland)
9
BBC FOUR
10
ITV3
11
Sky THREE
12
Yesterday
13
Channel 4 + 1
14
More4
15
Film 4
16
QVC
17
n/a
18
4Music
19
Dave
20
Channel One
21
Viva
22
Ideal World
23
Bid TV
24
ITV4
25
Dave ja vu
26
n/a
27
ITV2 + 1
28
E4
29
E4+1
30
FIVER
31
FIVE USA
32
Big Deal
33
ITV1 + 1
34
n/a
35
ITV Preview 1
36
Create and Craft
37
Price-drop TV
38
QUEST
40
Rocks & Co
41
n/a
42
n/a
43
Gems TV
44
Sky3 + 1
50
BBC One HD
51
ITV1 HD / STV HD
52
Channel 4 HD
53
S4C HD
54
BBC HD
70
CBBC Channel
71
CBeebies
72
CITV
80
BBC NEWS
81
BBC Parliament
82
Sky News
85
Russia Today
87
Community Channel
89
Al Jazeera Eng
90
TV News
93
n/a
94
Adult Smile TV2
95
Adult Smile TV3
96
Adult Babestn
97
Adult Party
98
Adult Blue
101
Teletext Holidays
102
Rabbit
103
Gay Rabbit
104
1-2-1 Dating
105
BBC Red Button
108
Sky Text
109
MOBILIZER
191
Adult red hot TV
192
Adult Filth
301 - 303
Interactive Services
306
Channel Zero (Data)
307
n/a
308
n/a
309
n/a
Note: Freeview Channel Listing provided in good faith and services may be subject to change.
Q: What If I can"t get Freeview in my area?
The best option to get the UK channels on a satellite dish and the Irish Channels on a TV aerial and feed them into a single combo receiver
Q: What if Freeview & Saorview operate on the same frequencies?
It is still possible to combine them but you will miss out on the frequencies that clash.

Alternatively of course you could just use 2 boxes (or a box and an MPEG4 HD TV)
We aim to provide a fast, reliable & low cost delivery service
Standard Courier With Fastway (Within 3 Working Days)

Cost is €3.95 on Orders Below €100
Free Delivery on Orders Above €100

Express Courier With Fastway

Cost is €6.50 for Express Shipping
This service guarantees that any order placed before 4.30pm will ship from our depot that same day on the next day delivery service*

Standard Courier With DPD

In general within the Island of Ireland will be €2 more than Fastway depending on the circumstances
Note: Free delivery items are only free with Fastway Standard Delivery option

An Post

Cost is €1.95 (P & P)
Available only on selected products with the An Post logo

Small Parcels

Cost is €2.95
Available only on products with the small parcels logo**

Great Britain

Western Europe


Cost is €10
Belgium, France, Germany, Holland, Italy, Lithuania, Luxembourg, Spain, Portugal etc

Rest of Europe


Cost is €20
Croatia, Czech Republic, Estonia, Iceland, Malta, Slovenia, Switzerland, Norway, Sweden, Finland etc

Rest of World


Cost is €30
Please contact us before purchasing to confirm
Terms
All shipping fee prices listed are ex-VAT @23%
Irish shipping rates apply to the whole Island (North & South)
Shipping fee is fixed for an order, regardless of the number of items bought
All courier orders require signed proof of delivery and the customer must be contactable by phone
We do not offer a weekend delivery service (Mon-Fri only excluding bank holidays)
*Our courier achieves a 98% success rate on next day deliveries
** Applies to island of Ireland only (North & South)