DESCRIPTION of Triple Tuner

Manufacturer: SAB
Model: Alpha Triple HD
Version: 2x DVB-S2 + 1x DVB-T2/C (Triple Tuner Combo Receiver)
Box Contents

SAB Alpha Triple HD Linux Receiver
12v ~ 2.5A Power Supply
Remote Control & Batteries
User Manual

Definition: Standard & High Definition
Resolution: Up to 1080p
Linux OS (Enigma2 Loaded by Default)
1.3GHz Dual Core Processor
Internal Bay For 2.5" SATA Hard Drive
Connections


2x DVB-S2 Tuners
1x /T2/C Tuner
3x USB
1x HDMI
SPDIF
eSATA Interface For External Hard Drive
DC IN (12v ~ 2.5a)
Ethernet Port
Power Switch

0.5w Deep Standby Power Consumption
3x Detachable Tuner Slots
2x Smart Card Reader Slots
1x CI Slot
3x USB Slots (Front & Rear)
E-SATA
Choice of Operating Systems - Why Choose Enigma2 Option?
Choosing this option allows you tap into some great online features
7 Day EPG Guide on Satellite as well as Saorview channels
Automatic channel updating if there is a new frequency changes
Ability to add Series link option
Ability to add additional features as free plugins become available
Display channel logo next to channel e.g. BBC, ITV, C4 Logos etc
Possible to automatically group and list channels e.g. By movies, news, kids
Note: Enigma2 is an open source freeware platform - people use it as it has a great online community behind it and allows you to add lots of features. But it is really for DIYers who can put up with the pains that come with this type of a 'lets develop a feature and see what happens' - it is not covered or supported officially by any manufacturer. We give a full warranty on the default Spark OS which is both reliable and fully supported by the manufacturer. We don't (no one does) give warranty on any Enigma2 features
USES of Triple Tuner

HD triple tuner for receiving free to air Irish & UK TV channels
Channel list includes

BBCs, ITVs, Channel 4, Channel 5, EWTN, CBS etc
RTE1, RTE 2, Virgin Media One, Virgin Media Two, TG4, Virgin Media Three, TG4, RTE One +1, RTEjr etc..

PVR Features - Add recording with an internal 2.5" SATA hard drive

Equipment needed - 500GB, 1TB hard drive etc

Allows viewer to pause, rewind & record live TV shows
Allows watch one, record another on satellite channels
Allows you record 1 satellite, record 1 terrestrial and watch another satellite channel
ADVANTAGES of Triple Tuner

The big advantage of the triple tuner is that it is based on Linux and comes with the stability of that operating system
The SAB Alpha Triple HD is a premium box with very high spec components
The triple tuner is capable of a variety of internet functions (Youtube, Shoutcast, Opera etc)
The SAB triple tuner is customisable & upgradeable
Supports both standard & high definition transmissions
It futures proofs your investment by meeting all the latest HD standards
Has PVR features (ie. Can pause/record live TV with addition of an internal 2.5" SATA hard drive)
Can receive both satellite (UK channels) and terrestrial (Saorview channels) in same box
Large remote for older people
Extremely responsive remote
DISADVANTAGES of Triple Tuner

More expensive than a generic combo receiver
It does not have an RF out i.e. it is not possible to run the picture to an additional room unless you use either an external Modulator or a TRI-Link (allows you to operate box with a sky eye from another room)
It is more expensive than other Linux receivers in our range (eg. Amiko Alien Mini) because it is a Linux combo receiver (satellite + terrestrial) and uses higher spec components, faster processor and more RAM, which in turn leads to far less instability issues when running Enigma2
Index
How to assemble a Sky/Freesat satellite dish
How to mount a Sky/Freesat satellite dish
How to align a Sky/Freesat satellite dish
Running the cables & attaching connectors
Installing the satellite receiver
1. How to Assemble a Sky / Freesat Satellite Dish
List of Sky dish components
Sky Satellite Dish
Wall Bracket
Wall Tube (Arm)
Elevation Bracket
Dish Bracket
Fixing Kit
Feed Arm
Tools needed to assemble Sky dish
10mm, 13mm socket and ratchet
Philips screwdriver
Steps to assemble the satellite dish
Open fixing kit and select U-bolts (qty: 2), nuts (qty: 4)
Insert the U bolts through the wall bracket
Thread on the nuts
Insert the arm and tighten the nuts using 10mm socket and ratchet
The wall bracket & arm assembly is complete
Next insert U-bolts (qty: 2) through the elevation bracket
Loosely tighten nuts
Attach the elevation bracket to the dish bracket
Using bolts and washers (qty: 4), tighten with 13mm socket and ratchet
Use the bolts and nuts (qty:4) and the Philips screwdriver to attach the dish bracket to the dish
Use the long threaded bolt and small nut to attach the feed arm to the back base of the dish bracket so the arm protrudes in front of the dish
Finally insert the LNB (and plastic insert) into the end of the arm and secure with a tie wrap
2. How to Mount a Satellite Dish
Equipment needed to mount a satellite dish on a wall
Sky satellite dish, complete with wall bracket and arm
Coach bolt M8 x 50mm & 10mm plastic plugs (qty: 4)
Tools needed to mount on a wall
Cordless drill - ideally a 24-36v SDS Drill
8mm, 10mm drill bits
10mm, 13mm socket and ratchet
Satellite meter
Criteria on where to mount the satellite dish?
Dish must face South East (141 degrees i.e. direction of sun 11am BST)
Wall must be a solid surface capable of carrying weight of satellite dish
Signal must not be blocked by houses or trees (signal is coming in at 21 degrees to the horizontal)
Place at back or gable end of house to minimise visual intrusion
Place as close at possible to TV room to which the satellite cables are to connected so as to minimise cable run
Steps
Place the wall bracket and arm in the correct location
Use the cordless drill and 8mm drill bit to drill 4 guide holes
Use 10mm drill bit to drill holes to a depth of 60mm
Insert the 4 plastic plugs in the holes and mount the wall bracket using the 4 coach bolts
Tighten the coach bolts using the 13mm socket and ratchet
Attach the satellite dish to the arm of the wall plate
Use 10mm socket to lightly tighten the dish 'U'-bolts so they are fixed to arm but the dish can still be rotated
Follow steps in the how to align a satellite dish guide
3. How to Align a Sky / Freesat Satellite Dish
Having already mounted the satellite dish on your wall
Attach your satellite meter to the dish LNB
Align the dish so that it is (1) perfectly vertical, (2) pointing south east (141 degrees).
Rotate the dish slowly over and back
Repeat adjusting the tilt angle by 1 or 2 degrees to until a signal is found
Tighten the U-bolts and side bolts using the 10mm & 13mm sockets
Disconnect the satellite meter
Connect a cable with an 'F-type' connector from the dish to the satellite box
Check that the signal is working
4. How to Run Cables & Attach Connectors
The next step is to run satellite cable to the satellite receiver
Tools needed
Hammer
Snips
Drill
SDS Drill Bit 10X450
Equipment
Satellite Installation Kit
Prior to begining you must decide
Decide how to run cable

Connect into existing cables in the attic

Normally neater but requires additional connectors
May need a multi-meter to be able to identify the correct cable
May result in longer cable runs

Run a cable directly from the satellite dish to the satellite receiver

Fastest and easiest way to run a cable
Cable runs are normally shorter
Requires the drill of a hole through a wall
STEPS
If the satellite receiver is to be located next to the external wall of a room

Use a drill and an SDS Drill Bit 10x450 to drill a hole through the wall
Ensuring to drill from the inside out

To conceal broken plaster use either

Hole tidy (insert inside and out before the cable is run)
Cable cover nailed onto the outside wall after the cable has been run

Feed the end of the satellite cable through the wall leaving enough cable to reach the front of the satellite box
Now start tacking the cable using 7mm clips and a hammer
Ensuring that the cable runs down from the hole that been drilled in the wall
This will stop water following the cable into the house
Continue tacking the cable

Run cable vertically or horizontally but NEVER diagonally
If possible hide cable under the plint or behind drain pipes (using 300mm cable ties)

Cut the cable leaving enough length to reach the LNB of the dish
Put on an F connector on the each end of the satellite cable
Screw the F connector on to the LNB
Seal the connection using Insulation tape or ideally waterproof self amalgamating tape
Secure the cable to the dish feed arm using either 300mm cable ties or Insulation tape
Final step is to put on an F connector on the satellite cable next to the satellite receiver
How to put on an F-connector
5. How to Install Your Satellite Receiver
Unpack the box

Satellite Receiver
Remote control

Screw the lead from the satellite dish into the LNB in connection
Connect a scart or HDMI cable from your TV to the box
Plug in the power lead
Turn on the power switch on the back on the box
After 5-6 seconds the box will come on and should automatically switch TV to AV channel
You may need to switch AV channel on TV if it does not automatically switch over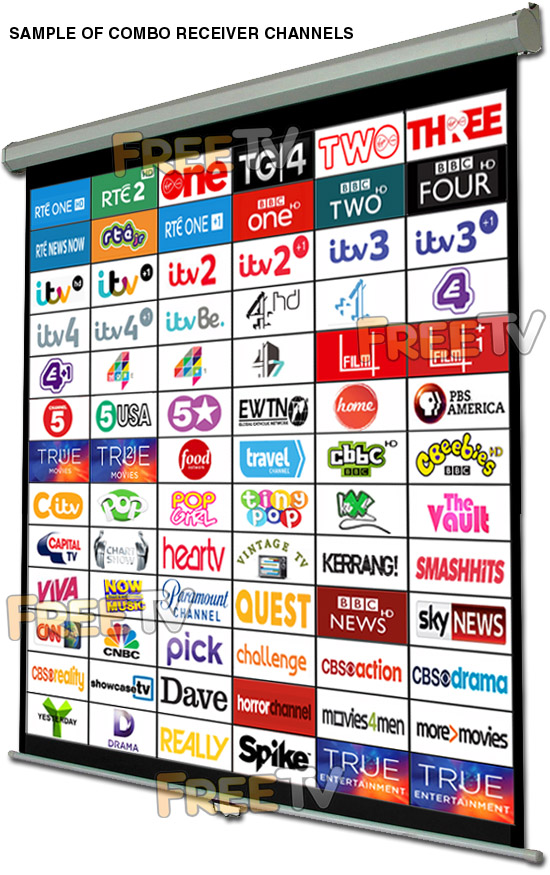 We aim to provide a fast, reliable & low cost delivery service
Standard Courier With Fastway (2-4 Working Days)

Cost is €3.95 on Orders Below €100
Free Delivery on Orders Above €100

Express Courier (Next Working Day)

With Fastway: Cost is €6.50 (or €2.50 extra if you qualify for free standard shipping)
With DPD: Cost is €8.50 (or €4.50 extra if you qualify for free standard shipping)
This service guarantees that any order placed before 4.30pm (Mon - Thurs) will ship from our depot that same day on the next day delivery service*
Orders placed after 4.30pm on Fridays & during weekends / bank holidays will be shipped the next working day*

An Post

Cost is €1.95 (P & P)
Available only on selected products with the An Post logo

Small Parcels

Cost is €2.95
Available only on products with the small parcels logo**

Great Britain

Western Europe


Cost is €10
Belgium, France, Germany, Holland, Italy, Lithuania, Luxembourg, Spain, Portugal etc

Rest of Europe


Cost is €20
Croatia, Czech Republic, Estonia, Iceland, Malta, Slovenia, Switzerland, Norway, Sweden, Finland etc

Rest of World


Cost is €30
Please contact us before purchasing to confirm
Terms
All shipping fee prices listed are ex-VAT @23%
Irish shipping rates apply to the whole Island (North & South)
Shipping fee is fixed for an order, regardless of the number of items bought
All courier orders require signed proof of delivery and the customer must be contactable by phone
We do not offer a weekend delivery service (Mon-Fri only excluding bank holidays)
*Our courier achieves a 98% success rate on next day deliveries
** Applies to island of Ireland only (North & South)
Heavy or Large Parcels (Applies only to Non Irish or UK customers): It may be necessary to charge higher shipping fees / offer option to cancel order