What Free to Air TV Channels can I get in Ireland?
Index
What are Free to Air Channels
How Can I get Free to Air TV
Free to Air Satellite
Free to Air Channels in Ireland
What Channels are on Saorview
What are Free to Air Channels?
What Free to Air means is channels that are broadcast unencrypted. This means that you can view these channels without paying a monthly subscription or using a vuiew card. The reception of these free channels is totally legal. The companies that broadcast these channels make their money from advertising, so the more people that can access their channel, the more they can charge advertisers. Of course you still need a TV licence to view them but as far as monthly TV bills go, you will never get one if you have a Free to Air system.
How can I get Free to Air TV?
There are currently two different ways that you can receive the Free to Air channels in Ireland.
Free to Air Satellite
Free to Air Digital Terrestrial TV
We have chosen to ignore the analogue TV signal that is being broadcast currently as this is due to be turn off in 2012. If you are looking at moving to a Free to Air system for the Irish channels, then you would be advised to future proof your investment by installing the digital TV equipment rather than getting an analogue installation now and having to upgrade again next year.
Free to Air Satellite
At the moment the most common by far method of receiving free to air satellite TV is from Astra 28.2e. There are 100s of free satellite channels broadcast from Astra including the BBCs, ITVs and C4 range of channels among many others. There is currently around 400 free channels you can pick up this way. When you have finished a scan for these channels on your satellite receiver, you will find that they have all come in on the box in an unordered fashion and there will be duplicates. For our customers convenience, we give the option of having the box pre-programmed. In that way, you can have all the duplicated removed and the channel line up ordered in a more logical fashion. There are a couple of drawbacks to Free to air satellite though.
EPG is only now and next
When channel frequencies change, the box does not automatically update
You will have to manually change the settings youself (not a big job)
Sample of Free to Air Satellite Channels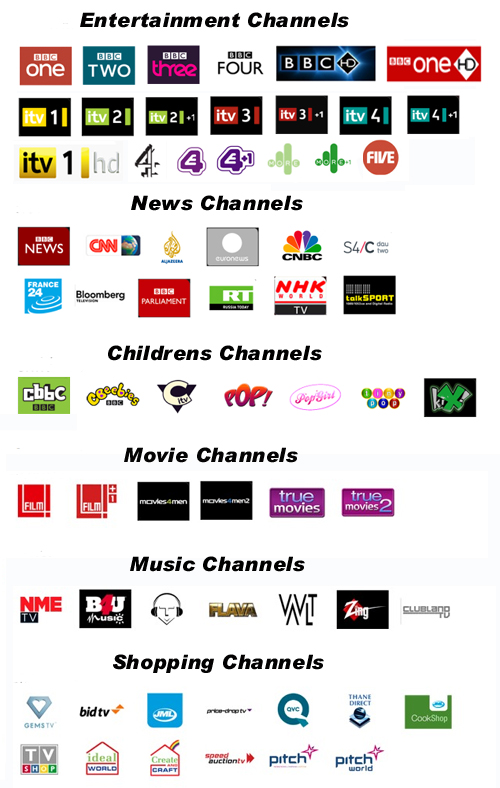 Free to Air Channels in Ireland
As mentioned above, we are choosing to ignore the old analogue TV system for the purposes of this article. But just for information purposes, you can get RTE1, RTE2, TV3 and TG4 on the old analogue system. You will need either/or a UHF and VHF Aerial depending on where you live to receiver it.
OK so now that the analogue is out of the way, Digital Terrestrial Television (DTT) is really what we want to talk about. In line with European regulations, we in Ireland, have to switch over to Digital Tv from 2012 onwards. What this will mean is that the old analogue signal will be turned off and anyone who has not got either a compatible set to box or compatible TV will not be able to get the new DTT signal called Saorview. There will be a massive public information campaign on Saorview beginning in May 2011 to inform people of the impending swicth off of analogue and the full move to Digital Terrestrial TV.
Saorview will be a huge improvement on the current analogue system. Not only will it improve the quality of TV reception, it will also improve the coverage. The Digital TV signal is so strong that the days of fuzzy or snowy TV picture will be consigned to the history books. Set top boxes ot TVs that can receive the Saorview signal will also have the advantage of a 7 day EPG also. In the long term you will also be able to get all the irish Free to Air channels in HD (High Definition). Currently as we write this, RTE2 is being broadcast in HD.
Saorview will increase the number of Domestic Free to Air channels in Ireland from 4 to 9. There is among others an addition of a dedicated Childrens channel called RTEjr, a rolling news channel called RTE News Now and a +1 Catch up Channel for RTE One. There are also a wide range of Radio channels being added to the Saorview service including all of your favourite RTE Radio channels and other RTE broadcast channels that are available on the Irish DAB (Digital Audio Broadcast) network.
There are also other advantages like Digital Telextext (TV or Receiver must have Mheg5 Middleware installed). Digital Teletext is a giant leap forward from the old type of teletext. Apart from the fact that the signal is stronger and you won't get missing text, pages or nothing at all due to poor reception, it also has the advantage of allowing interactive services also. How these are to be utilised, we will have to wait and see but the possibilities are exciting.
What Channels are on Saorview?

It was just announced recently that the channel line up has been finalised. See below for the full list of Saorview Channels;
Saorview TV Channels

RTÉ One
RTÉ Two HD
TV3
TG4
RTÉ News Now
3e
RTÉjr
RTÉ One + 1
RTÉ Digital Aertel
Saorview Radio Channels

RTÉ Radio 1
RTÉ 2fm
RTÉ lyric fm
RTÉ Raidió na Gaeltachta
RTÉ Choice
RTÉ Pulse
RTÉ 2XM
RTÉ Gold
RTÉ Chill
RTÉJnr
Radio 1 Extra
There are currently no immediate plans for any pay TV services on Saorview. This is probably going to be true in the medium to long term due to the current economic state Ireland's finds itself in.