Next day delivery available on orders before 4.30pm Monday - Thursday

DESCRIPTION of a DigiDome Outdoor TV Aerial
Colour: White
Dimensions (Dia * H): 19cm * 15cm
Band: Covers UHF, VHF, FM, DAB
Frequency: 47-790 Mhz
Amplification: 20dB
Saorview Digital TV: Yes
Manufacturer: Labgear
Connections: F-Type Connector
Has integrated 4G Filter
Consists of
Dome Aerial with Integrated Amplifier
Power Supply Unit
Wall mounting bracket (now comes Galvanised)
Aerial Installation Kit

Black Satellite Cable: 10m
Rubber Boot
Mounting Plugs & Bolts (qty: 4)
Black Cable Clips: (qty: 10)
F-Connectors: (qty: 1)
Coax Connectors: (qty: 2)
USES of a DigiDome Outdoor TV Aerial
This small compact yet High Gain TV Aerial is ideal in situations like;
Location:
Use on Apartment blocks where planning restrictions apply
Where Householders must mount the TV aerial to the front of the house and want to minimise visual impact
In old houses or apartments with very thick walls which can cause poor Radio or TV reception
In campervans, caravans or mobile homes
To Receive
For receiving the new Saorview TV service
Receiving FM, DAB Radio signals
ADVANTAGES of a DigiDome Outdoor TV Aerial
Small compact unit
Easy to mount
In tests by TVTrade.ie (see video) it worked very well even in a relatively poor reception area
The kit contains everything you need
Can be used with Window pass cable to prevent the need to drill holes to run cable to TV
Has an integrated 4G filter which will prevent interference from new 4G Phone masts
The Aerial is omni directional
DISADVANTAGES of a DigiDome Outdoor TV Aerial
More expensive than traditional aerial
Must be mounted facing the transmitter
Will not give the same gain a a true high gain UHF aerial
Will not work where there are buildings around that are much higher than where the aerial is to be mounted.
Note: Installation kit is now slightly different. See product description page for details
See map below for main Saorview transmitters in Ireland. Alternatively, click on link to view all main Saorview transmitters and regional sub stations [Click Here to View Map]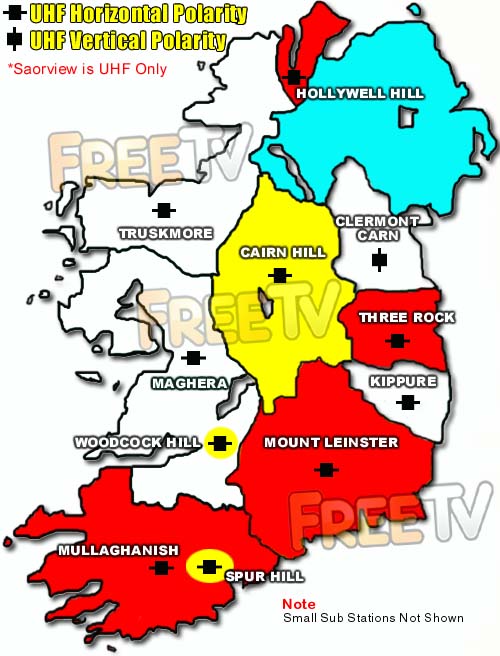 The above map shows the main Saorview coverage & transmitters, the colour code of the best UHF aerial to use and their catchment area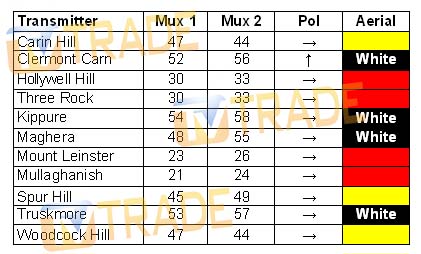 The table above shows the channel range & polarity of each of the transmitters in Ireland. The final column shows the UHF group colour code for the most appropriate aerial for the transmitter. Of course it is possible to use a wide band UHF aerial (either the standard white tipped, higher gain, high gain grid or 32 element) which will work on all transmitters

The table above shows the range of UHF TV Aerials available, their frequency range and the colour code associated with each aerial.
What Channels Can I Receive?
Using an official Saorview approved set top box, it is possible to receive 10 Irish digital TV channels
Using a generic digital TV receiver without MHEG5, you will receive 9 channels
RTE Aertel Digital is only available on boxes with MHEG5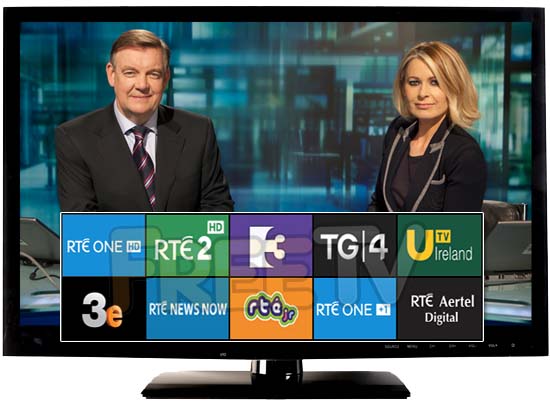 RTE ONE HD

RTE One HD is the most viewed TV Station in Ireland. It offers a variety of home grown factual, arts, drama, entertainment & lifestyle programming. It is also lauded for it"s domestic & international news and current affairs programming. 70% of the top watched TV programmes in Ireland are on RTE One HD

RTE TWO HD
RTE 2 HD is more focused on sport, documentaries, foreign TV series and childrens programming. RTE 2 HD is the first domestic TV channel to broadcast in high definition allowing for the viewing of GAA matches in glorious HD for the first time. Foreign TV series like CSI will also be broadcast in HD. More HD content will become available as time goes on
TV3
TV3 is a commercial free-to-air television broadcaster in the Republic of Ireland which launched on September 20, 1998
It was the country"s first independent commercial broadcaster. TV3 is operated by the TV3 Group which also consists of television channel 3e. The main studios of TV3 are located in Ballymount, Dublin
TV3 broadcasts a wide range of programming which in its early years depended heavily on international acquisitions
3e
3e (3 entertainment) is a general entertainment channel operated in Ireland by Kish Media a subsidiary of TV3 Group. The channel launched on January 5, 2009 (replacing Channel 6 which launched on March 30, 2006). The channel provides a diverse mix of programming both local and international, targeting a demographic ranging between 16 to 35 year olds
3e is particularly great for catching up or re-watching old TV series
TG4
TG4 is Ireland's Irish language TV channel. The daily Irish language programme schedule is it"s core service supported by a wide range of material in other languages
Music, documentary & sports coverage have earned particular praise for TG4
UTV Ireland
UTV Ireland is the home for quality entertainment, news and current affairs, drama and documentaries reflecting a modern Ireland. Launched on January 1st 2015, UTV Ireland brings ITV favourites such as Coronation Street and Emmerdale combined with home-produced news and insights into today's top stories
RTE News Now
RTE News Now is a 24 hour rolling news channel with live news bulletins, live current affairs programmes, catch-up on recent news and current affairs, live coverage of special events, breaking news and continuous sport, business and weather updates throughout the day
RTEjr
The RTEjr is a dedicated daytime television service for children aged 6 years and younger. RTEjr shares channel space with RTE One +1 and will be on from 11am to 7pm and is free of advertising
RTE One +1
RTE One + 1 shares channel space with RTÉjr and will be on from 7pm to 2am. From May 2011 this channel will be an exact replica of RTE One, with a 1 hour delay
RTE Aertel Digital
RTE Aertel Digital is an improved digital version of the RTE Aertel teletext service, which is modern, fast and user-friendly. The service offers up-to-date and accessible news, sport, weather and other information, including flight times, public information, local council information, information for deaf and hard of hearing audiences and subtitles
What Radio Stations Can I Receive?
Currently, it is also possible to receive 9 Irish digital radio stations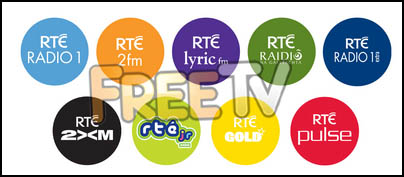 We aim to provide a fast, reliable & low cost delivery service
Standard Courier With Fastway (Within 3 Working Days)

Cost is €3.95 on Orders Below €100
Free Delivery on Orders Above €100

Express Courier

With Fastway: Cost is €6.50 (or €2.50 extra if you qualify for free standard shipping)
With DPD: Cost is €8.50 (or €4.50 extra if you qualify for free standard shipping)
This service guarantees that any order placed before 4.30pm will ship from our depot that same day on the next day delivery service*

An Post

Cost is €1.95 (P & P)
Available only on selected products with the An Post logo

Small Parcels

Cost is €2.95
Available only on products with the small parcels logo**

Great Britain

Western Europe


Cost is €10
Belgium, France, Germany, Holland, Italy, Lithuania, Luxembourg, Spain, Portugal etc

Rest of Europe


Cost is €20
Croatia, Czech Republic, Estonia, Iceland, Malta, Slovenia, Switzerland, Norway, Sweden, Finland etc

Rest of World


Cost is €30
Please contact us before purchasing to confirm
Terms
All shipping fee prices listed are ex-VAT @23%
Irish shipping rates apply to the whole Island (North & South)
Shipping fee is fixed for an order, regardless of the number of items bought
All courier orders require signed proof of delivery and the customer must be contactable by phone
We do not offer a weekend delivery service (Mon-Fri only excluding bank holidays)
*Our courier achieves a 98% success rate on next day deliveries
** Applies to island of Ireland only (North & South)
Heavy or Large Parcels (Applies only to Non Irish or UK customers): It may be necessary to charge higher shipping fees / offer option to cancel order