Lyngsat.com - How to Find Free to Air Frequencies for Astra 2 at 28.2e
What we hope to demonstrate here is how you can quickly and easily find the correct frequencies and settings on the Lyngsat.com website to enable you to tune in a new satellite channel on your free to air receiver.
The video and picture below show the relevant settings to use from the Lyngsat.com website. This tutorial is aimed at people who want to tune in the free UK channels on their satellite receiver and is demonstrated using the Astra 2 satellite at 28.2 degrees east.
Please note that to watch the video, you should increase the resolution of the video to max and increase the viewing window to full screen to get the best results.
Example of How to Read Frequencies & Settings from Lyngsat.com
Note: The 'F' symbol in the graphic below means that the channel is free to air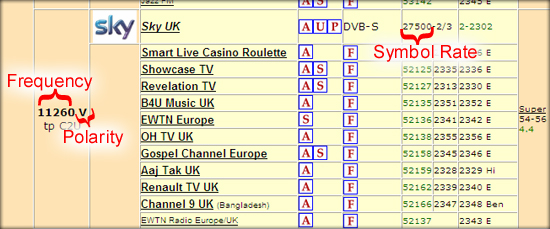 The Frequency of the channel you wish to tune in will appear in the very left hand column
Immediately after this number will be the Polarity (V or H)
The Symbol Rate appears in the 6th column from the left and is the first 5 digits
This is all you generally need to tune in a channel on a free to air receiver
You can find the Lyngsat.com Astra 2 at 28.2° East page http://www.lyngsat.com/Eutelsat-28A-and-Astra-1N-2...
See how to tune in a new channel on your receiver in our technical information section.